Coltech Engineering
Coltech Planning have qualified and experienced Engineers available to conduct Structural Integrity Inspections of Mine Site Plant and Equipment.
This specialised service provides the client with Structural Inspection Report which may include the following deliverables: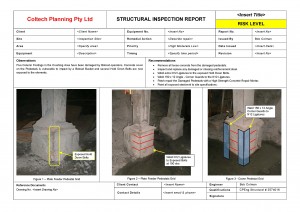 The current state of the Inspection area.
Compliance with Australian and Site Standards.
Structural Analysis of any damaged Assets.
Recommendation to repair or replace items.
Repair Plan or Method for each identified defect.
A Risk Rating of the Structural Issues.
Bob Colman is a registered Certifying Structural Engineer with the Northern Territory Building Practitioners Board
and can provide Section 40 certification.
Examples of work include:
Ground level and elevated housing up to 2 stories
Domestic Sheds and Carports
Industrial sheds and awnings
Solar panel installations
Coltech Planning have been engaged as a Contractor with ERA Ranger Mine since 2010 and have worked on a variety of projects during the past 6 years including:
Chute Fabrication Drawings
Design review and upgrade of the Tailings Line and Pump Station
Plant Structural Inspection Reports
Structural Design Upgrades and Repair Methodology
Platform Design and Certification
SpaceGass Structural Analysis
Pipe Racking and Foundation Design
As part of our labour hire services, Coltech Planning provided the services of a qualified Metallurgist for the ERA Ranger Mine to fill a skill shortage gap.
Coltech Planning has been providing contract engineering, detail drafting and labour hire services to Mt Isa Mines since 2010.
In 2015 Coltech was contracted to review the structural integrity of the underground operations at the George Fisher Mine. One example of the review findings resulted in the Design and Certification of a 55 tonne SWL Access Platform. Maintenance workers were concerned about corrosion on an original 35 year old steel platform. A detailed visual inspection showed that one of the main support beams was pending failure and that advanced corrosion was prevalent throughout the remaining structure.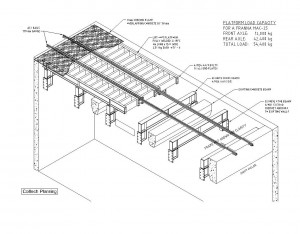 Engineer Bob Colman worked with the mine's Fixed Plant Supervisor to design a replacement platform that could be installed with minimal disruption to production. SpaceGass Structural Analysis software was used to model the dynamic forces of a fully loaded 25 tonne Franna Crane and suitable beam sections were selected. Coltech Planning provided the client with a set of fabrication drawings so that all steel members could be fabricated and painted off site. The modular design made allowance for variations in the existing concrete structure and could be installed without any interruption to production.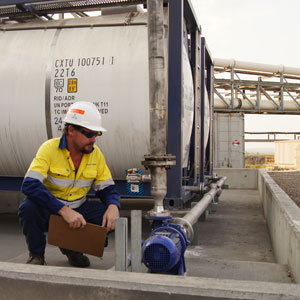 Glencore – MRM is located in the Northern Territory approximately 800kms south/east of Darwin.
Bob Colman has been engaged as an external contractor at MRM since 2007.
Examples of the projects Bob has worked on are:
Design of overhead cranes and monorails
Design of workshop structures and foundations
Project engineering for the installation of tanks, hoppers, pumps and piping
Design of tank plinths and pipe supports
Acid and fuel management
Project management of tank installations to $5M.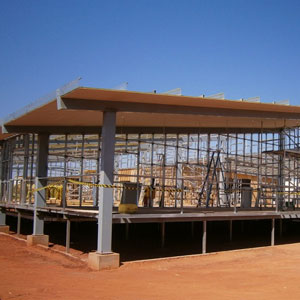 Granites gold mine site is located in the Tanami desert north/west of Alice Springs in the Northern Territory.
As an external contractor Bob Colman has worked on projects such as:
Structural design of a 2,000m2 dry mess with a 14m open span dining area
Structural design of an 80 tonne overhead gantry crane and footings
Design of a conveyor take-up weight winch system
Detail design of a 220,000 litre fuel bund and tank foundations
Detail design of a 500,000 litre process water tank and foundations
Design structural platforms for hoppers and vibrating equipment
Structural Integrity Inspections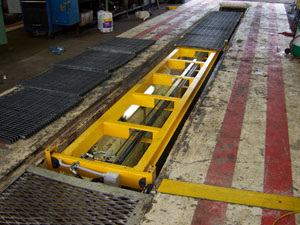 EWT is the brainchild of a local Darwin mechanic, Hew McDonald.
Hew is the inventor of the PIMP, a hydraulic/cable elevating platform in a mechanic's pit.
Operated by remote control, the system will:
Reduce workplace hazards
Improve workplace efficiency & productivity
Improve technician/mechanic posture & comfort
Each Platform is custom engineered by Coltech Planning and installed by EWT to suit the pit, ranging in size from 5m to 20m long.
The next phase of this project is to engineer a portable Elevated Work Platform that can be moved from one site to another.
For over 20 years MMC Australia Pty Ltd has been servicing various sites across northern Australia.
MM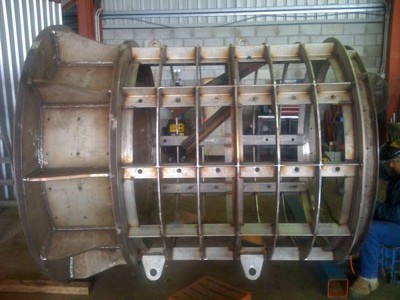 C Australia Pty Ltd has provided sites with engineering, fabrication, fitting and personnel solutions in the mining, construction and oil & gas industries.
Bob Colman provides structural and mechanical engineering services to MMC.
Some examples of work performed are:
Design and certification of lifting frames
Structural design of workshop extensions
Design of 8m wide x 10m high, hinged workshop doors
Detail design of access platforms and stairways.
Hercules is a local Darwin company that specialises in supplying lifting gear.
Coltech Planning has provided Hercules with detailed design of
lifting gear to DNV 2.7-1 including:
10 tonne lifting basket
12 tonne, 12m lifeboat cradle