Coltech Planning has been providing contract engineering, detail drafting and labour hire services to Mt Isa Mines since 2010.
In 2015 Coltech was engaged to review the structural integrity of operations at the George Fisher Mine. One example of the review findings resulted in the Design and Certification of a 55 tonne SWL Access Platform. Maintenance workers were concerned about corrosion on an original 35 year old steel platform. A detailed visual inspection showed that one of the main support beams was pending failure and that advanced corrosion was prevalent throughout the remaining structure.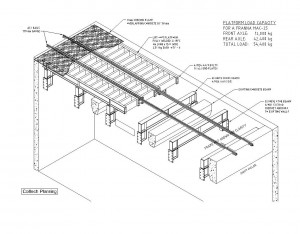 Engineer Bob Colman worked with the mine's Fixed Plant Supervisor to design a replacement platform that could be installed with minimal disruption to production. SpaceGass Structural Analysis software was used to model the dynamic forces of a fully loaded 25 tonne Franna Crane and suitable beam sections were selected. Coltech Planning provided the client with a set of fabrication drawings so that all steel members could be fabricated and painted off site. The modular design made allowance for variations in the existing concrete structure and could be installed without any interruption to production.