Coltech Planning has a qualified and experienced team available to conduct Structural Integrity Inspections of Mine Site Fixed Plant and Equipment. The aim of these visual inspections is to identify structurally compromised equipment that pose a risk to work place safety and production down time in the processing plant. We then recommend repair methodologies that aim to make the work place safer and extend the life of the plant and equipment.
This specialised service provides the client with Structural Inspection Report which may include the following deliverables: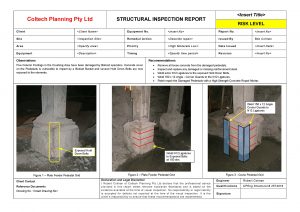 The current state of the Inspection area.
Compliance with Australian and Site Standards.
Structural Analysis of any damaged Assets.
Recommendation to repair or replace items.
Repair Plan or Method for each identified defect.
A Risk Rating of the Structural Issues.